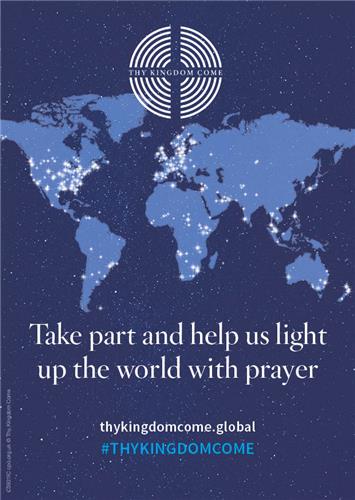 Thy Kingdom Come is a global prayer movement that invites Christians around the world to pray for more people to come to know Jesus. What started in 2016 as an invitation from the Archbishops of Canterbury and York to the Church of England has grown into an international and ecumenical call to prayer.
Download the Guide for Eleven Days of Prayer
Join the global wave of prayer calling all Christians to pray between Ascension and Pentecost for more people to come to know the love and peace of Jesus Christ. We hope that you choose to participate in this global prayer movement. This year, a special emphasis is suggested as we pray for youth and young families.
Christ Church Cathedral will participate from 18-28 May 2023, with group and individual prayer initiatives. View the Guide for Eleven Days of Prayer for information about events, resources for all ages, and readings to help you focus. Printed copies are available at the Cathedral and Hall. Resources such as a Prayer Journal and Novena are also available to download for free on the Thy Kingdom Come website.
Thy Kingdom Come begins with Ascension and ends with Pentecost. Celebrate the Ascension of the Lord on Thursday 18, May at 7:30 p.m. in the Cathedral. Celebrate Pentecost on Sunday, 28 May at 8:00 a.m. and 10:30 a.m. in the Cathedral, and 4:00 p.m. Choral Evensong.
In the days between Ascension and Pentecost, it has been the habit of many Christians, for centuries, to make the focus of our prayers the same as those first believers. Christ's last instruction to His disciples on the day of his Ascension is to 'wait for the gift my Father promised' (Acts 1:4).
Join us on weekdays during Thy Kingdom Come for a local discussion (45 min) about the series of reflections by the Very Rev'd Bob Key on 1 John. We begin at 5:15 p.m. Friday 19 May in the Memorial Hall boardroom or via Video Conference (see our calendar).
Commit to attending the Daily Office in the morning (8:45 a.m.) and the evening (4:45 p.m.) in the Cathedral. Join us for this prayer Tuesday - Friday during Thy Kingdom Come (due to the Victoria Day holiday on Monday, May 22). It takes about 15 minutes.