As part of our Cathedral Faces series, we are sharing biographies of our staff members and clergy. These dedicated individuals contribute a lot to our community, in ways seen and unseen, and we are thankful for their work.
---
Kirsten McKnight is passionate about creating positive change through community collaboration and inclusiveness.
She holds a B.A. from Memorial University of Newfoundland (History and Political Science) and an LL.B. from the University of New Brunswick. She spent 15 years working as a consultant for The Quaich Inc. with a variety of non-profit organizations on health promotion initiatives, communications and event planning; most notably, the Atlantic Summer Institute on Healthy and Safe Communities, Special Olympics PEI, the Canadian Breast Cancer Network, the Public Health Agency of Canada's Canadian Breast Cancer Initiative, and the New Brunswick Breast and Women's Cancer Partnership. In her personal life, Kirsten has volunteered with a number of youth-focused community groups.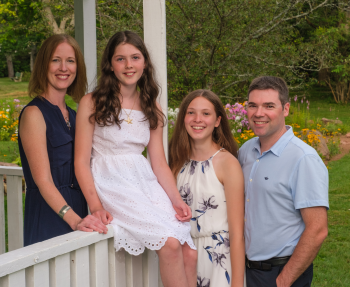 Born in Ontario, Kirsten has lived in five provinces and her strongest roots are in Newfoundland, where most of her extended family lives. Her family owns a record company specializing in traditional Newfoundland music, Avondale Music. Fun fact: in university, she spent several years on-air at the MUN campus radio station. She met her husband Brad, a Pharmacist from PEI, at MUN. They have lived in Fredericton since 2002 and have two daughters: Claire and Charlotte.
Kirsten has grown in faith as part of the Cathedral's church family: through worship, as a member of the Communications Committee, a Belize mission team member (2013), and a volunteer for programs and events. As Office Administrator, she also sits on the Finance and Administration Committee.
She joined the Cathedral staff in the fall of 2020, following the retirement of longtime Office Administrator Fran Miles. In the course of her duties, Kirsten produces digital and print communications, acts as a liaison between the Cathedral and community organizations, assists Cathedral groups with tasks as-needed, and provides records management and financial assistance. She enjoys meeting people as the front-line contact in the office.
She feels blessed to be a part of the Cathedral's staff, helping to connect the community for God's purposes.