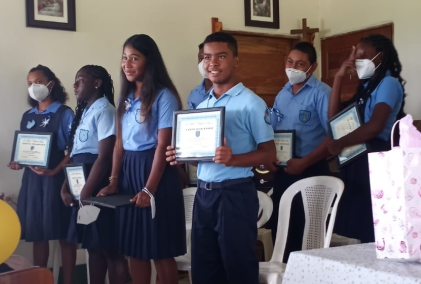 Graduates of St. Hilda's Anglican School were thrilled to receive their diplomas from Standard 6 (grade 8) at the end of June.
Principal Jane Martinez shared photos of the happy students, which you can see below. She previously sent photos of a worship service held for the graduates in the school's chapel.
Upon this completion of publicly funded education, students are at a crossroads. High tuition costs for high school mean that many students will not have the opportunity to further their education, and must enter the work force as young teenagers. Unemployment in the country is high, there are many large single-parent families, and almost half of Belizeans live below the poverty line.
In 2010, Cathedral mission team members established a high school scholarship program which has allowed St. Hilda's students to apply for a scholarship to continue their education past grade 8. Some of the graduates supported by the Cathedral have gone on to post-secondary education. Currently, four students attending high school benefit from Cathedral scholarships. The pandemic has been a tumultuous time for our scholarship students, with several of them facing illness or significant family distress.
Thanks to generous donations from members of the Cathedral congregation, we also send funds to the elementary school each year to contribute to ongoing needs for the students and teachers at St. Hilda's. Contributions towards the Belize missions are welcome and appreciated. You may give and receive a charitable tax receipt by making an online donation or submitting a donation marked 'Belize' through the Cathedral office or offering plate.
Visiting Belize to form relationships with the teachers and students has been a transformative experience for many of the Cathedral members who have participated in mission trips. Learn more about our relationship with students and teachers at St. Hilda's in our archive of Belize articles, and please keep the students, teachers and families in your prayers.