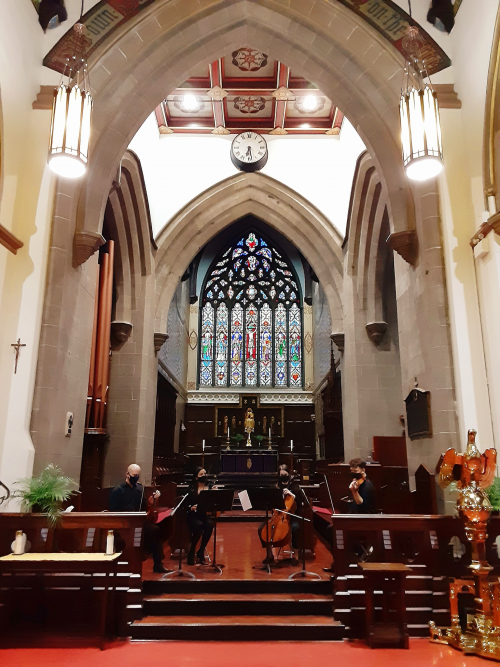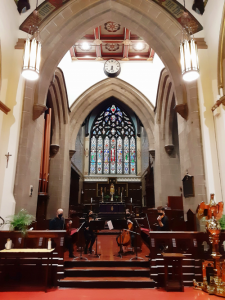 Spring is returning to Fredericton, and concerts are returning to the Cathedral!
Known for its wonderful acoustics, Christ Church Cathedral is considered an excellent venue for musical performances. This spring, we are pleased to be the host venue for a number of concerts featuring local musicians.
09 April, 2022 -- The Fredericton Symphony Orchestra invites you to welcome the change of the season on Saturday, 09 April at 7:30 p.m., at Christ Church Cathedral. Our concert "FSO Big & Bold" features an overture by Canadian composer, Sir Ernest MacMillan, "Nimrod" from Edward Elgar's Enigma Variations, "Norsk Kunstnerkarneval" by Johan Svendsen, and Antonín Dvořák's Symphony No. 6 in D Major. Tickets available online.
24 April, 2022 -- After a two-year break, Choeur Louisbourg (The Louisbourg Choir) will be back on stage with a spring tour of New Brunswick, with 4 concerts including Sunday, 24 April, 3:00 p.m. at Christ Church Cathedral in Fredericton. Cathedral Organist and Director of Music Thomas Gonder will accompany the choir at all locations. For this first concert since the beginning of the pandemic, artistic director Monique Richard has chosen a repertoire that is meant to be balm for the soul. The program will be devoted to two major works for choir and organ: Requiem by Maurice Duruflé (1902-1986) and Lux aeterna by Morten Lauridsen (b. 1943). Tickets, at a cost of $30.00, will be on sale at the door. Admission is free for students. Learn more.

14 May, 2022 -- The Capital Camerata Singers, a Fredericton chamber choir under the direction of Anne Sessa, will present a concert on Saturday, 14 May, at 7:30 p.m. in Christ Church Cathedral. Known for their blend and artistic expression, the Camarata Singers perform the very best in choral a cappella music, from Renaissance to contemporary choral arrangements and Spirituals. Tickets are available at Westminster Books and at the door. $20 (adults), $15 (students/underemployed) and $30 (families).
03-05 June -- Unfortunately, the New Brunswick Choral Federation's Choral Fest has been cancelled for 2022. Details.
11 June, 2022 -- Bel Canto Singers (program and ticket information to come)
We look forward to welcoming you to the Cathedral to enjoy these spring musical events. In July, we will resume our own Summer Music Series with concerts an noon each Friday throughout July and August. Stay tuned for an announcement about the lineup.