Donations accepted until 15 April.
When Beverly Morell heard that Lunch Connection in Saint John was looking for volunteers to sew cloth bags to help make their school lunch program more environmentally friendly, she was struck with inspiration.
Her granddaughter, Cara, has an interest in sewing and had received a sewing machine for Christmas. Beverly saw this as a perfect opportunity to teach her granddaughter while helping others.
Together, Beverly and Cara sewed 10 drawstring cloth bags, as requested by Saint John Inner City Youth Ministry.
Volunteers are requested to sew simple drawstring bags for lunches donated to schoolchildren. Through the program, approximately 400 children in six K-8 schools receive subsidized lunches three times a week. Cloth bags will result in a significant decrease in waste, as the program currently uses paper bags. Program organizers are requesting 1200 cloth bags so they can be washed between uses.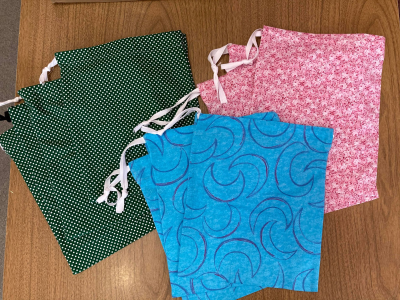 The Anglican Diocese of Fredericton has placed a drop-box in the lobby of Cathedral Memorial Hall. They are asking people to put completed bags or fabric (at least 12" x 28") in the drop-box in the lobby of Cathedral Memorial Hall during office hours, 9:00 a.m. - 12:00 p.m. The deadline is April 15. Bags will be delivered periodically to Saint John by Synod Office staff.
Visit the Diocese website to learn more about the program and watch the sewing video tutorial.