On Friday, January 14 at 11:59 p.m., the Province of New Brunswick enters Level 3 of the COVID-19 Winter Plan, in order to reduce the rapidly rising number of cases of the highly transmissible Omicron variant.
New pandemic restrictions are not welcome news for any of us as we avoid in-person worship and meetings. However, added attention now should assist with stress on our health care system and the help to keep our most vulnerable with medical needs, COVID-19 and otherwise, as safe as possible. We'll continue to care for one another with patience, compassion and kindness and see this through together.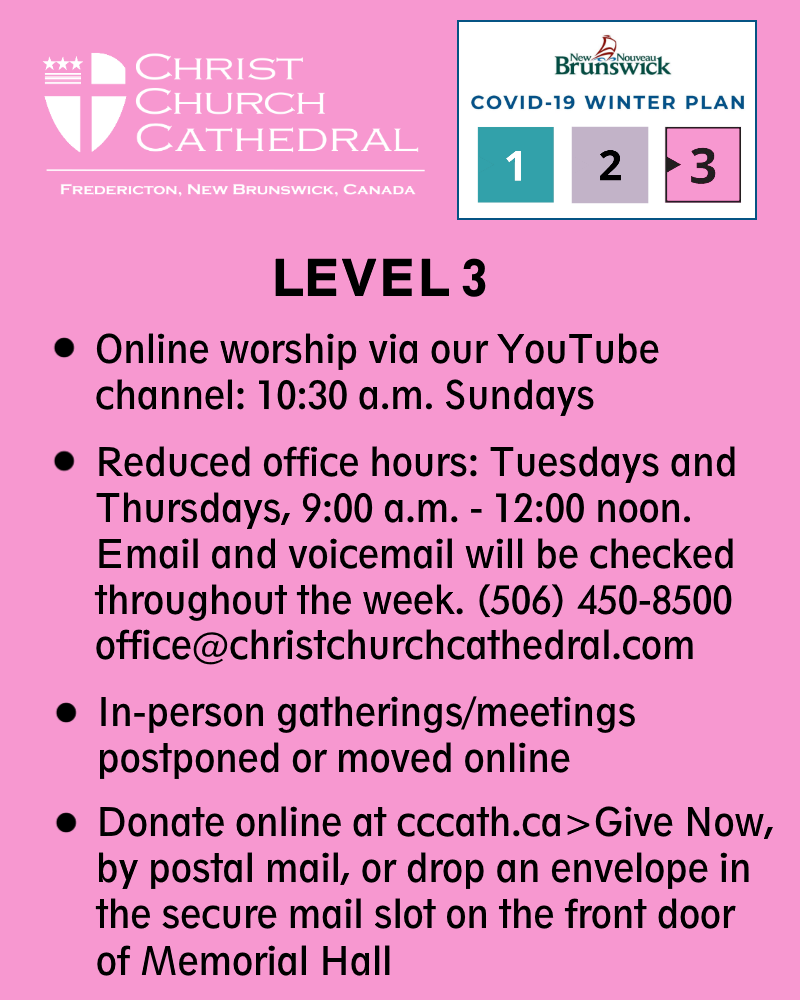 During Level 3 of the COVID-19 Winter Plan, worship will be held online only, Sundays at 10:30 a.m. View the livestream and recordings on our YouTube channel. While we are in Level 3, worship at 8:00 a.m. on Sundays and 10:00 a.m. on Wednesdays will be cancelled.
Cathedral office hours will be reduced: Tuesdays and Thursdays from 9:00 a.m. - 12:00 noon. The doors of Memorial Hall will be locked outside of these times. Email and voicemail will be checked throughout the week (506) 450-8500.
Under Level 3 precautions, public gatherings are not permitted. As such, groups will be unable to hold meetings inside Cathedral Memorial Hall.
We hope that this temporary pause will help to protect each other, and look forward to seeing you again when it is safe to do so.
During this time, your continued support is appreciated. Donate online, by postal mail, or drop an envelope in the secure mail slot on the front door of Memorial Hall. Thank you!