A message from our Parish Nurse: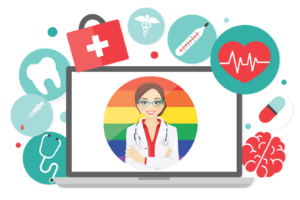 With access to primary health care becoming increasingly challenging, have you heard of New Brunswick's e-Visit program? It is very simple to book an appointment online, and can save you long wait times in the ER. They can handle many urgent health care needs and send a needed prescription right to your pharmacist. The best part is that you do not have to leave your home, as it is done over the phone or video.
We all know someone (or many someones) currently without a family doctor. Even if you are blessed to have one, there are times when we cannot access them the same day, and you may have a more urgent need. It makes it challenging for continuity of care, and it can be a major challenge to book in a walk-in clinic or end up in the ER for something that could have been managed with a simple visit.

For a fee of about $49 you can book online to have a virtual appointment with a nurse practitioner who can manage treatment for many ailments and health inquiries. While this may not be the ideal answer for all, it may help in a pinch considering the current state of health related affairs in New Brunswick.
e-VisitNB is very straightforward to use, but if you need assistance, I'd be glad to help!  Email or phone the Cathedral Office (506) 450-8500.
Stay safe, stay well and be blessed,
Sarah Ecker