One of the less understood festivals of the Church is celebrated in the public participation of our children. Halloween sees children and adults carving pumpkins and placing them in living room windows, lighted by a candle. Halloween sees children, younger children especially, rummaging through cardboard boxes of old cloths, or trying on their parents' clothing. Imagination takes over and really quite remarkable creations take life!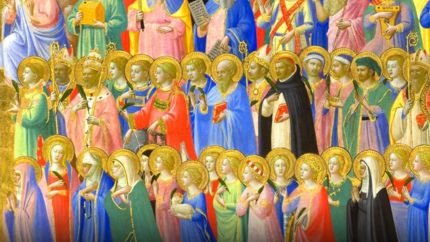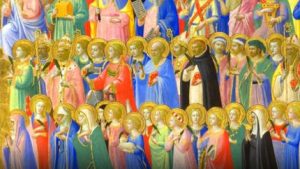 With a pillowcase in hand (I always used a big pillowcase myself), and a mask or some make-up to obscure recognition, children escape into the dark of the street. Accompanied by a parent, or in the company of friends, they begin their exploration of their neighbourhood. Doorbells are rung. A door is opened. Perhaps the person who answers will call them by name. And it's great fun not to have been recognized! Especially if they have called the occupant by name, and they still weren't recognized! They retreat down the walkway and head up the street to find another doorbell. With good and generous neighbours, pillowcases might end up half full by the end of the evening. Enough sweets to last a week or even longer, with careful management!
Tired after the excursion, the sorting of sweets, and perhaps the shrewd trading with brothers and sisters for favourites, ghosts, ghouls and hobgoblins turn in for the night, thinking that it's all over.
It isn't all over.
All Hallows' Eve is the beginning of the observance by the Church known as All Saints' Day. As a community of faith, we remember those of our number who have died, and as Christians have given us a focus in what we know as the Communion of Saints. The Scriptures proclaim, and the Creeds affirm, and we believe that those who have died in the faith of Jesus Christ continue in the fellowship we enjoy with God. In the Communion, we say that we join the company of "angels, archangels and the whole company of heaven." In the most ancient of Christian hymns, we join our voices to sing, "Holy, holy, holy Lord, God of power and might, heaven and earth are full of your glory. Hosanna in the highest." The Book of Alternative Services explains that the whole company of heaven means "all your saints who have served you in every age."
It isn't all over.
That includes the saints we know from early times, of course. But it also includes many more that remain unknown to us. There are, however, many saints who have served God in our age. They may include our grandparents, our parents, possibly our sisters and brothers. They may include our neighbours and our friends. Certainly, they include all that have been baptized and have died. Is it small wonder that they unwittingly wear their parents' clothes? Is it small wonder that they search the trunk holding spats and dresses and wide lapel suit jackets; old felt hats and hats decorated with feathers? The joy and glee of costumed youngsters helps us reflect on our baptism and the special relationship and grace that are ours as God's gift to us.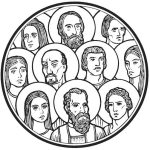 When we mistakenly limit the scope and the self-consciousness of Halloween and attribute the festival to the forces of darkness, we celebrate ignorance. Certainly, there are those who do not know the association of the Communion of Saints with the stealth of neighbourly visitation. It is our opportunity and responsibility to inform others that God's grace fills our lives, and the lives of those who have gone before us, with the generosity and largesse mirrored by the pillowcases filled by neighbours.
We can choose to be superstitious. And that choice is made by many that wish to exalt the power of darkness. However, we have another choice: the recognition of the fellowship that is held up by Paul, when he wrote to the Church in Rome. "I am persuaded," he wrote, "that neither death, nor life, nor angels, nor principalities, nor powers, nor things present, nor things to come, nor height, nor depth, nor any other created thing, shall be able to separate us from the love of God, which is in Christ Jesus our Lord." Romans 8:38-40
Copyright © James T. Irvine
Used with permission
Canon Jim Irvine is a retired priest in the Diocese of Fredericton.