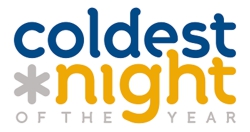 It's cold out there!
The Coldest Night of the Year is on Saturday, February 22, 2020.
CNOY is a family-friendly national walk-a-thon that helps you raise funds for charities that serve hungry, homeless and hurting people in your town, and in 136 communities across Canada.
Christ Church Cathedral Team (Faith Alive! + Cathedral) is gearing up with a goal of $1500.
We need you!
Faith Alive!, the group preparing for confirmation, reaffirmation or reception are being encouraged to be team members as a "mission activity" as part of the Programme. Our Team Captiam is Kurt Schmidt. Our Youth Group is also planning to participate in the walk, but anyone can join. If you can't walk, perhaps you would consider sponsoring one of our team? Check our team's coldest night page to track our progress.
Join our Team, Sponsor one of our members or find out more ...
Coldest Night of the Year Canada
Coldest Night of the Year Facebook
Coldest Night of the Year Fredericton
"Faith Alive! + Cathedral" Colest Night of the Year