Christmas comes gradually to our house—gradually and somewhat gently. Of course, it wasn't always like that. When I was a child, Christmas arrived suddenly! It came on Christmas morning when we got out of bed and after opening the living room door, found that the room had been magically transformed with a fully decorated tree.
Santa always left our stockings at the foot of our beds. I still recall waking up and wiggling my toes to see if the stocking was there—and the joy and wonderment of finding it and realizing who had put it there! When you moved it with your foot, it made a special sound that cannot be compared to anything else.
But it all happened on that one day—which made the whole experience that much more exciting! Mind you, there were still events that led up to Christmas. Advertising on radio and TV still encouraged us to get our shopping done early, and there was still the Santa Claus parade. More important than the parade was the opening of "Toyland." Yes, my friends, I remember when there were no malls, the stores were on one or two streets downtown, and they did not keep a full selection of toys all year long. "Toyland" meant that Christmas was really coming!
But in spite of this limited hype, things didn't start to get serious for me until the party on the last day of school. After school ended, I would get perhaps as much as two or three dollars from Mom to go downtown and buy something special for my grandmother. It was usually a nick-nack to go on her mantle. Dogs, cats and other cute animals were very popular with me and her other grandchildren. As a result, Nanny's mantle resembled a menagerie. I am sure that many a saleslady was silently screaming at how much time it took me to choose just the right piece.
On Christmas Eve morning, my sister and I would take the bus to Nanny's house to get a pair of her stockings. She wore those special "old lady" stockings that were perfect for hanging up. Nylons just didn't seem to work! We would phone her in the morning, "Nanny, do you have any of your stockings you could let us borrow?" The answer was always "Yes" for her many grandchildren. I'm surprised that Christmas Day found her with any stockings left to wear.
The bus ride to her house was also special. For me, bus rides were always special. But this one, more so. Mom would give us bus fare—a shiny five cent piece, "Put this inside your mitten and don't take it out until you get on the bus! Nanny will give you another one for the ride back."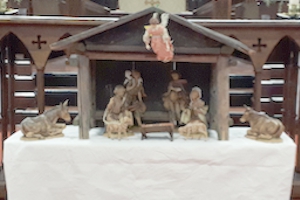 Now, we could have walked down the street and taken the West Loop bus that went down the hill, and we would have been at Nanny's house in no time. But I always liked to take the bus going in the opposite direction. The cost was the same, but you got a much longer ride. You traveled along Water Street, where you could see the Christmas lights and the people hurrying into the stores. They were getting on the bus, loaded down with mysterious packages! People seemed to act differently because it was Christmas Eve. People smiled more, and we often heard those magical words, Merry Christmas.
Over the years our habits have changed. Christmas doesn't arrive as suddenly as when I was a child. I couldn't possibly do what my parents did on Christmas Eve. But we are still a family that decorates the tree just before Christmas—as opposed to just before Remembrance Day—and I am, purposely, one of the last on my street to decorate the outside of my house. But mid- November finds us at the tree farm picking out our tree and around the end of November, we start to see hints of Christmas. The ornate wall hanging suddenly shows up. Then, a bit later, the everyday mugs disappear, replaced by the Christmas mugs. By Advent Sunday, the ceramic Christmas tree will have appeared. And a bit later, my well-thumbed copy of Dickens' "A Christmas Carol" calls out to me. But the tree in all its glorious and majestic splendor is still left until almost Christmas. On the other hand, our decorations stay up and the outside lights stay lit until Twelfth Night.
Bringing out the Christmas decorations is always special. Seeing that particular favourite ornament is like welcoming back an old friend. Seeing the boys' special ornaments always brings back memories of Christmases past. And even trying to figure out how strings of lights could possibly have twisted themselves that much while sitting for eleven months in a motionless box is more or less tolerable!
In spite of having celebrated many Christmases, we are still caught up in the rush of Christmas shopping and the dash to make sure that we have those last minute things, which always seem to get forgotten.
But even so, our Christmas seems to come gradually and gently. Perhaps that fits with how the baby Jesus arrived. May your Christmas be joyous and gentle.
Gary Barfitt