Christ Church Cathedral
Esteemed Scholarship Sponsor:
RE: SCHOLARSHIP SPONSOR 2018-2019 SCHOOL YEAR
Dear Sponsor
As I sit around my computer wondering what words I can write to say thank you to someone as instrumental and deserving as you are in being a contributing member of the success of Eden High school, so much comes to mind but foremost, this small prayer: "Lord, thank you so much for your blessings on Eden High school through all our sponsors. Thank you for the love they have for our school and their commitment to making the lives of these students better through education. I pray that you will shower them with your love and. blessings as they have showered us with love and blessings and support. Amen."
Kind greetings from Eden High. This year was amazing. Yes it had its challenges but we were able to see and feel God's blessings. So what's new? What made it amazing? Well our school year started out with 618 students and approximately 45 persons employed in many different capacities all equipped and ready to serve with love. This was our biggest enrollment ever in 30 years and our biggest staff as well. Do you realize that all this growth is possible because of your continued support? This year our graduating class is 140 strong, again our biggest ever. We rejoice in the great work and development we have seen in these students throughout their 4 years at Eden. You were there all along. Thank you. Together we all made it happen.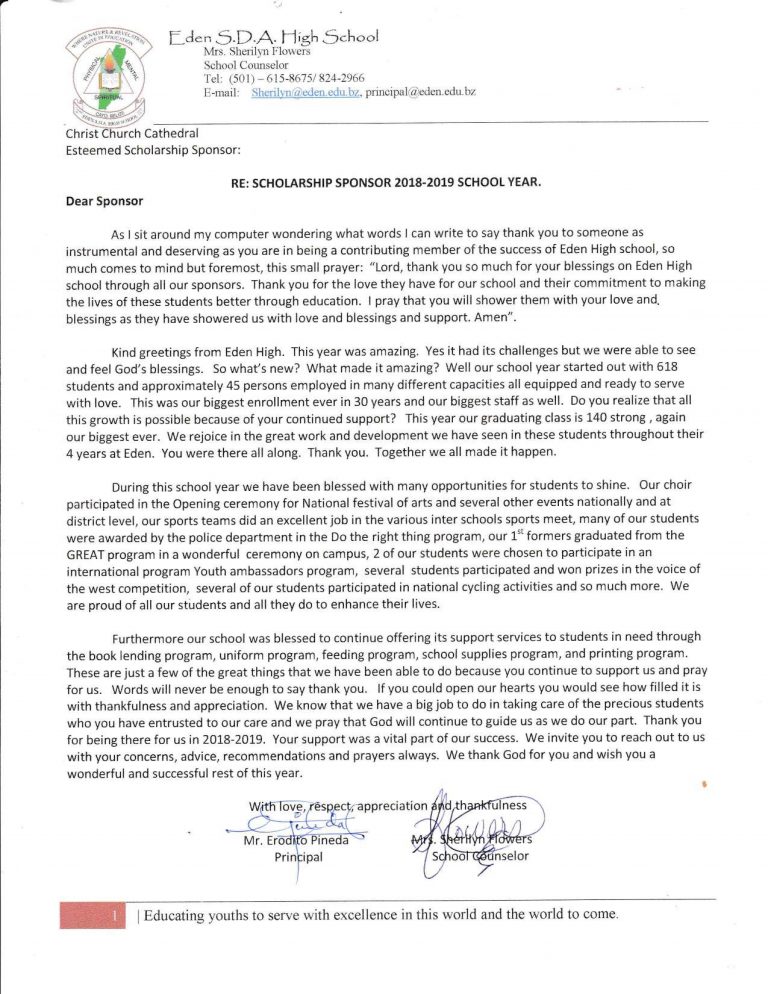 During this school year we have been blessed with many opportunities for students to shine. Our choir participated in the Opening ceremony for National festival of arts and several other events nationally and at district level, our sports teams did an excellent job in the various inter schools sports meet, many of our students were awarded by the police department in the Do the right thing program, our 1st formers graduated from the GREAT program in a wonderful ceremony on campus, 2 of our students were chosen to participate in an international program Youth ambassadors program, several students participated and won prizes in the voice of the west competition, several of our students participated in national cycling activities and so much more. We are proud of all our students and all they do to enhance their lives.
Furthermore our school was blessed to continue offering its support services to students in need through the book lending program, uniform program, feeding program, school supplies program, and printing program. These are just a few of the great things that we have been able to do because you continue to support us and pray for us. Words will never be enough to say thank you. If you could open our hearts you would see how filled it is with thankfulness and appreciation. We know that we have a big job to do in taking care of the precious students who you have entrusted to our care and we pray that God will continue to guide us as we do our part. Thank you for being there for us in 2018-2019. Your support was a vital part of our success. We invite you to reach out to us with your concerns, advice, recommendations and prayers always. We thank God for you and wish you a wonderful and successful rest of this year.