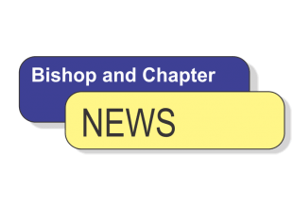 Bishop and Chapter met on Monday, 20 November 2017 with twelve of thirteen members present. Minutes of 16 October 2017 were adopted. The Dean led a brief information sharing and conversation regarding children and Communion. Bishop's Directive 3.1.2 contains guidelines for practice. A brief overview of Life in the Eucharist was discussed.
Business Arising
• Review Engagement – has been scheduled with accountants for January 2018. This will be a regular part of year end preparation in the future.
• Trust and Endowment Funds – continuing to work with the Stevenson/Eddy report to provide a better accounting structure and presentation of Cathedral funds. The up-coming review will be useful as we better incorporate this information into our financial reporting
• Cathedral By-Law Amendments – a motion to adopt a third draft of proposed amendments was carried. With the signature of our Bishop, the new By-laws will come into force
• Volunteer Position Descriptions – working toward Safe Church regulation compliance, seven descriptions approved
• Chapter Vacancy – a continuing search for a member to chair the Hospitality/Welcoming/Membership Committee of the Chapter.
• 2018 Stipend – at the request of the Dean and in accordance with diocesan requirements, a decision was made regarding the Dean's stipend for the coming year: 5% increase (minus a cost of living increase in the 2018 minimum stipend scale)
Items for Decision
1. Nominating Committee – the Dean and two appointed lay members of the Chapter (Sally Dibblee and Kevin Percy) one of whom will be the chair. Three member terms expire this year, two of which may be renewed for another three year term. Three delegates to Synod (two adults, one youth) and their substitutes will needed for election, Nominations invited.
2. Committee terms of reference – some Chapter committees lack terms of reference. Some remaining organizational challenges. Executive will work with committees to clarify over the next couple of months.
From the Dean
• Normal – 6 home visits, 5 visits to hospital, several home/hospital Communions, 1 funeral, diocesan and Cathedral meetings including Life in the Eucharist and Belize mission
• Request for use of Green – an inquiry has been received about using the green north of Queen for a Saturday community event in the summer of 2018 or 2019. A formal proposal to be received
Reports
• Treasurer – financials to 31 October presented and considered. Internal income above normal due to the "Fabric Grant" and a Development grant for Christian Formation from the Synod
• Buildings and Property – lawn signs installed, Cathedral insulation
• Communications – Two Minutes for Cathedral Ministry
• Formation – Life in the Eucharist, Godly Play, Taizé worship
• Administration and Finance – Records management
• Mission and Outreach – Belize Mission, Soup Kitchen coordinator needed
• Health and Pastoral Care – Information Session on Dying
• Worship – Workshop on reading scripture 28 October (attendance 30)
• Hospitality/Welcoming/Membership – in need of leadership
Up-coming
03 December – Advent Lessons and Carols
17 December – Christmas Lessons and Carols
24 December – 10 am; 4, 8, 11 pm
01 January – 11 am New Years with the Bishop
Next meetings:
11 December; 22 January. Annual 25 February 2018 GMH