It has been approximately 14 years since Christ Church Cathedral conducted an "all members" visitation initiative.  Church development literature indicates that healthy churches are those that regularly conduct both "in-reach" and outreach; people need to feel a strong and sustained connection to their church community.  Having a new Dean and a renewed Bishop and Chapter, it was felt there is tremendous opportunity for the church to reach out to one another in a visitation initiative.
In the fall of 2015 the lay chair of Bishop and Chapter approached me to see if I would be interested in leading an all member visitation program.  I agreed to become the project lead and put together a project plan which was presented to Bishop and Chapter in February of 2016.  The goals of the plan were as follows: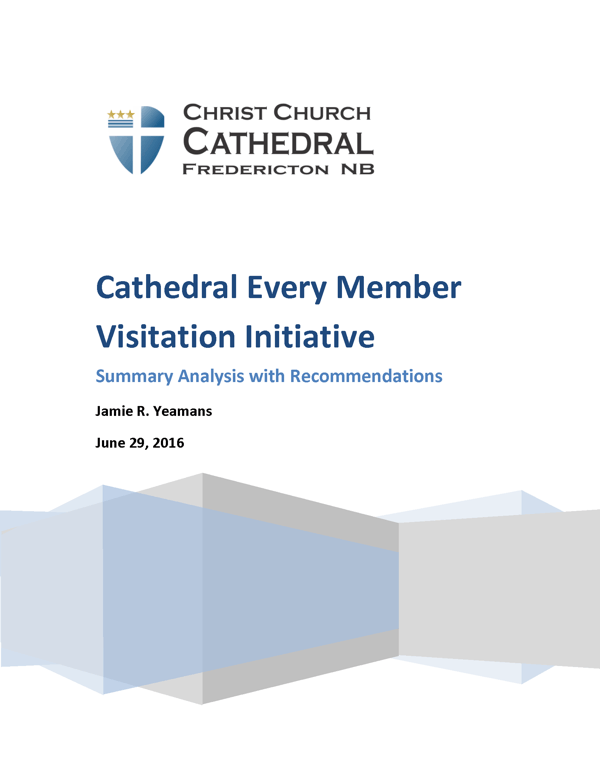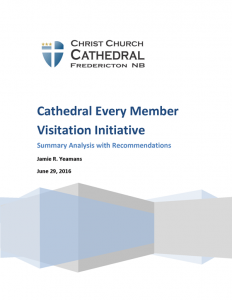 Purposes of the Visitation
Sharing and promotion of the unique Cathedral ministries and services through focused discussions
Gathering facts, opinions and suggestions from those visited
Connecting with recent newcomers and non-regulars and
Informing and encouraging increases in our offerings
After some discussion, the Dean suggested adding a fifth area of focus:
Invite volunteer participation for future initiatives.
The project plan outlined a critical path:
announce the initiative at the annual meeting, February 21
evaluate level of congregational support for the project
review of Congregational List, March 31
compilation of visitation materials, March 31
half day training workshop, April 16 (Saturday)
visits begin, April 23 (Saturday)
visits end, May 7 (Saturday)
debrief of visitors, May 29 (Sunday)
final report to Bishop and Chapter, June 30
With some future modification (the visitation was extended to May 28 and the visitor debrief was moved to June 5); the plan was accepted by Bishop and Chapter at the February 15 meeting.  The visitation was announced by the project lead at the annual congregational meeting on February 21.
Thirty-six visitors were recruited and were given a half day training session led by the project lead in April.  The intent was to familiarize volunteers with the visitor information packages that were developed and assembled for this purpose; select the households to visit and answer any remaining questions.
Visitors were encouraged to select a minimum of five households to visit.  They were instructed to telephone their households first to schedule a convenient time for the visit.  If the parishioner did not wish to receive a visit from a volunteer, they would be invited to complete the questionnaire online or via hardcopy provided in the Cathedral nave.
Visits concluded on May 28.  A de-brief for all volunteers was held June 6 and led by the project lead.  The purpose of the focus group was to receive feedback from volunteers – what worked; what didn't work? – the essence of which would help inform this final report.
J. Yeamans