At the Cathedral we'll say goodbye to Willis Noble, Director of Music, on the last Sunday in March.  Willis plans to embark on a journey of further academic studies early next fall and will be moving to Toronto.
The Cathedral congregations will say thank you to Willis on Easter Sunday, 27 March following a 10:30 a.m. combined worship when he insists that he will provide the cake, as his own  expression of thanksgiving. "I have nothing but fondness for the people and of my time at the Cathedral," Willis said.
"The past ten years are some of my most cherished memories and I am thankful for the time I've spent with the Cathedral community."
As an accomplished organist, teacher and choral director, Willis has also successfully continued to nurture a contemporary Christian music group leading the more informal styled 11:45 a.m. worship on Sundays.
Dean Geoffrey Hall said, "I've not known a church musician with whom it is easier to work.  Willis has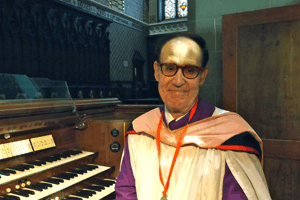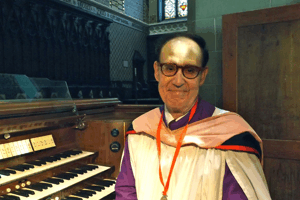 a grasp of liturgy and the theological and a breadth of musical ability that has made him a very good fit for the needs of the Cathedral over the past decade."
"I've not known a church musician with whom it is easier to work." Dean Geoffrey Hall
Of course the Cathedral has been only part of his contribution to the musical community while in Fredericton.  Willis has also been part of the adjunct faculty in the Department of Fine Arts at St. Thomas University. Reporting his being honoured by the New Brunswick Choral Federation for his distinguished service to choral music in the province in 2013 and the Stanley B. Cassidy Memorial Award by the Fredericton Music Society for his outstanding contribution to music in the Fredericton community, the STU website had this to say about him:
"Willis is not only a fantastic musician with an illustrious professional career, but also an extraordinary teacher and a wonderful colleague," says Dr. Martin Kutnowski, Chair of the Fine Arts Department. He teaches a wide range of courses. Given the satisfaction of his students, it's clear that Willis feels equally at home when teaching the most basic elements of music, as in a music rudiments class, or when teaching the challenging subject of music and meaning, and everything in between. We are very lucky to have him at STU."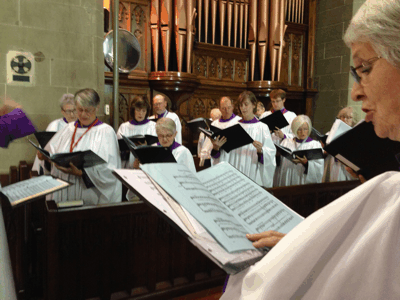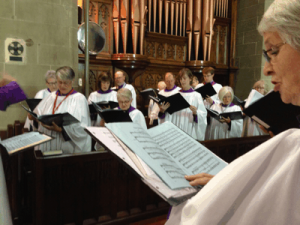 Being of the Christian faith few at the Cathedral would  put luck high on a list of why things are the way they are. We can only give thanks that God called Willis to spend these past ten years with us.  We wish him well as he moves on to new endeavours.
From 1997-2005, Dr. Noble was Director of Music at the Church of St. Mary Magdalene in Toronto and Director of Music for Trinity College, University of Toronto. He was also an Associate Professor of Divinity at Trinity College.
Until 1997, Dr. Noble was head of the Department of Music at Mount Allison University, where he taught church music, organ, and choral music. He also conducted the Chamber Choir. He was also the Organist and Choir Director of St. Paul's Anglican Church in Sackville, a position he held from 1984 to 1997.
Dr. Noble has extensive teaching experience, including history of choral music, church music (especially Canadian repertoire), and Baroque music. He was also a member of the board of the New Brunswick Choral Federation, and Director of the Diocesan School of Church Music. He is an active recitalist specializing in Canadian Organ Repertoire.
Willis has a Master's Degree in Music from the University of Toronto, and has earned a doctorate from Indiana University in 1982.  He is the author of 'Sacred Choral Music in Canada.'