"He" was born in 1927, in Lake Edward, New Brunswick. Or as he puts it, "I was born in the suburbs, on the outskirts of the city of New Denmark." "She" was born in New Denmark. They were both raised on potato farms. They first met at Recreation Centre dances. Her family moved to Fredericton in the early 1950's and he followed shortly thereafter. He was following his dream. She was his dream!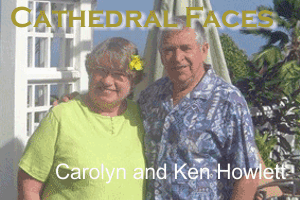 And so begins the story of Carolyn and Ken Howlett. Childhood sweethearts who will soon celebrate their 60th wedding anniversary (November, 16, 1956). I asked the standard question – "was it love at first sight?" Without taking a breath, Ken responded "Oh, yes!" And accompanying that pronouncement was a broad smile and a twinkling eye. In almost the same breath, Carolyn answered "No." I must have looked a little confused as she proceeded to say "We're very different people, you know". But honestly, I think there was a little twinkle in her eye as well and maybe even a little blush. Very different; but apparently quite well matched!
Ken is proud of his Lake Edward roots and won't hesitate to tell you that. Like most rural New Brunswickers of his generation, he learned his abc's in a one room schoolhouse that went to grade eight and was presided over by one teacher. He grew up with three sisters and one brother and has many happy memories of his childhood on the farm. I asked if he had picked potatoes and Carolyn said his preference was to operate the potato picker. Apparently, he has always had a keen interest in all things mechanical! Ken was brought up in the Anglican faith and attended St. George's Anglican Church in Lake Edward. His father had helped to build the church, which is still standing, in the early 1920's. Ken was active in the church from a very young age teaching Sunday School. He noted, however, that he liked to finish his class as quick as he could so that he could listen to the other teachers.
Carolyn was also brought up in the Anglican faith and attended St. Ansgar's Church in New Denmark. St. Ansgar's is also still standing and is a beautiful sight to behold on the crest of a hill as you enter the picturesque village. Carolyn's family's move to Fredericton in the early 50's lead to her attending NB Teacher's College and obtaining a teacher's certificate. She taught school until the first of their four sons arrived.
Ken, who had originally worked in construction with Carolyn's father, started his own construction business and built their first home in Devon. By the time the fourth son arrived, they began to think that separate bedrooms might make life a little more peaceful around the Howlett household and so, Ken built their second home in New Maryland where they have been since 1977. It is a lovely, warm and welcoming family home presided over by two lovely warm and welcoming people.
Ken and Carolyn started attending the Cathedral in 1963 – 52 years of almost perfect attendance! I asked them to tell me a bit about what they have been involved in over those 52 years and wound up thinking I should have asked if there was anything they hadn't been involved in!
Ken has:
– served on Bishop and Chapter (many times)
– served as Property Chairman (many times)
– been a member of the Guild of St. Joseph
– served as a sidesman
– taught Sunday school
That's a lot of service about which he is very humble. But then, we talked about the "little jobs" around the Cathedral that Ken has done, some of which I had heard people talk about in the way that we often talk about legends. Like climbing a forty foot ladder to change a light bulb. By my estimation, that's about five average ceiling heights and those pesky sanctuary lights require one to step on the very top step in order to reach the bulb. Not for the faint-hearted, but changing the light bulbs in the steeple spotlights on the peak of the Cathedral also wouldn't be for the faint-hearted, and Ken has done that. He maintained the bells; he wound the clock; worked on the pointing of the stone on the exterior of the Church; helped with the maintenance of the Deanery; etc. Also not for the faint-hearted (at least in my book), Ken has spent more than one night alone in the basement of the Cathedral with no one for company other than a very uncooperative boiler decidedly lacking in warmth. "Not even the famed Cathedral ghost" appeared, according to Ken, who shrugged off my horror of spending the night alone in any basement with a very matter-of-fact "I understood how it worked and the church had to be warm for Sunday services." Just last year, Ken drove in to the Cathedral three times in the middle of the night to tend to that unruly boiler. I'm not sure what you or I will be doing when we are Ken's age, but I'm willing to wager not many of us will be heading out at 2 am to tend to a boiler anywhere!
Carolyn has an equally impressive history of service in the church. She too taught Sunday School, her first class at the age of 13 at the Church in New Denmark. She recalled having 20 children in her class of 7 to 9 year olds and enjoying them immensely. While Carolyn did obtain her teaching certificate and did teach for a short while, after her son's were grown, she decided to launch a new career and went back to university in 1984 to obtain a degree in Social Work. Almost 30 years spent raising four boys, and she was not prepared to simply rest on her laurels! She worked for many years and was well known in the social work community of the Province of NB. At the Cathedral, Carolyn has been active in the ACW, the Little Helpers (predecessor to the Mothers Union), youth work at the Cathedral, a member of the Diocesan Youth Committee, a member of Bishop and Chapter and is currently, the Prayer Chain coordinator. In 1976, Carolyn became the first female from the NB Diocese to attend the General Synod meeting!
Four children, 6 grandchildren, 2 great grandchildren and 52 years later, Ken and Carolyn are still members of the Christ Church Cathedral congregation and are still serving. Carolyn pointed out that they have seen many changes over the years. They were both keen to note that the addition of the Health Ministry is one that they are very thankful for and one which they both feel has made a big difference to a sense of community in the Cathedral.
Thank you, Ken and Carolyn for allowing me into your home and sharing your story. You have accomplished and are still accomplishing so much in your day to day lives and certainly, in the Cathedral community. And no, Ken, I wouldn't spend the night in the basement by myself no matter how well acquainted I was with the boiler!
– by Gail MacGillivray