On the bulletin board in Christ Church Cathedral, photos of children from Belize are a reminder of a link between our congregation and St. Hilda's Anglican School. On the school playground in Belize, picnic tables affixed with a handmade wooden maple leaf and cross are a reminder of the Canadian missioners who care for the school.
Mission groups from Christ Church Cathedral have travelled to Belize four times: in 2005, 2007, 2010 and 2013, and through these trips, bonds have been formed with the staff and students of St. Hilda's, an elementary school in the rural village of Georgeville. Two hundred children attend the school, ranging between kindergarten and grade 8. Over 50 Cathedral members ranging in age from 15 to 79 have gone on a mission trip to Belize, and hundreds of people in Fredericton have supported the work through organizational support, donations and prayers.
On each of the Cathedral's mission trips, the activities of the teams have been different, based on the current needs of the school and skills of the missioners. Our relationship with the Belizean people began in 2005 when the Cathedral Puppeteers responded to an invitation from the Anglican Diocese of Belize. They visited many schools during their trip, and during subsequent trips the Cathedral began to strengthen its relationship with St. Hilda's School. Missioners from Fredericton have helped to: build a foundation for bathrooms at the school; paint classrooms; build much needed bookshelves; provide literacy materials and support; provide first aid training; wire the school for internet; and build the aforementioned picnic tables.
The former St. Hilda's principal, Mrs. Ida Bennett, appreciates the ongoing support from Christ Church Cathedral, and the continuing relationship has been a blessing for both Belizeans and Frederictonians. Several missioners have returned to Belize multiple times, and it is always a joy to reconnect with students and teachers they formed a bond with on previous trips.
"Nobody had any idea it would grow into what it is now… the building of bonds between two distant Anglican congregations," said Beverly Morell, who has been part of all four mission teams. "The reason we go is bounded in scripture. We are called to help those less fortunate. I feel that we are God's hands and feet in the world; that we're helping in some small way to further His kingdom."
The support from our entire Cathedral family has been overwhelming. Thousands of dollars have been donated to the school over the past decade, and a portion of the funds are sent to St. Hilda's each year to help with costs such as school supplies, crucial renovations, and continuing education for teachers.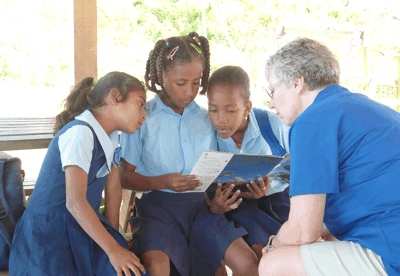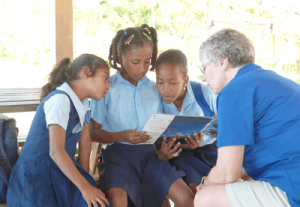 In addition to providing infrastructure and academic support for the school, spiritual aspects of each mission have benefitted both the Belizeans and the Cathedral missioners. On the most recent trip, missioners made a special gift to the sanctuary guild at St. Hilda's chapel — a beautiful set of altar linens in the liturgical colours of purple, red, green and white, expertly stitched by Lucy's Sewing Group at the Cathedral. The sanctuary guild at St. Hilda's chapel was very touched that people so far away were praying for them and wanted to help beautify their humble chapel. Each teacher at St. Hilda's School was also given a cross necklace made by the Cathedral Pewtersmiths – crosses matching the ones worn by each missioner.
"I really think we received the greatest gifts," Anne Thornton, a busy mother of two small boys, said about the 2013 trip. "We held daily devotionals to give our time to God. We stayed at a quiet mission centre surrounded by the beauty of nature. This was precious."
Before traveling to Belize, each member of each mission team made a nearly year-long time commitment, as well as a financial commitment. Each team met more than a dozen times over several months, to get to know each other, share their skills, fundraise, learn about working in other cultures, and develop spiritually. The emphasis for each trip was on teamwork, building loving relationships with each other and with the Belizeans, and serving God in a beautiful corner of His kingdom.
"We enjoyed laughter and fellowship," says student Lionel Hayter, who has travelled to Belize on 2 Cathedral mission trips. "We learned from each other and from the wonderful children and their hard-working teachers. We saw deep-rooted challenges due to socio-economic conditions, but also noticed compassion and dedication."

"The physical work was hard, and there was a deep sense of satisfaction when we finished tiling and painting," Diane Stevenson said of the 2007 trip. "But it was talking with the kids that touched my heart."
Indeed, the smiling faces of St. Hilda's students will forever inspire and motivate the Cathedral members who have travelled to Belize. "We felt blessed to be able to give something back to help others," Doug Milander says. "They worked with us, and we learned so much from them. I've thought of the people I met in Belize every day since I got home."
Elinor Joyce, who travelled to Belize in 2007, returned to Fredericton with "a renewed appreciation for all the things that we take for granted – comfortable homes, clean water, knowing that our children have hopes for the future. So many of the children won't be able to afford to go past grade 8, and their futures are so uncertain," she remarked. "In the midst of that, I keep seeing their beautiful smiles, and their joy in all the simple things that they do have."
In Belize, the average age at which a child leaves school is 13 years old, because high school costs $700 USD a year. Most families don't have that kind of money. The average annual income is $8,400, and 43% of Belizeans live below the poverty line. Unemployment is high. People tend to have large families, and 75% of the children at St. Hilda's School come from single-parent families.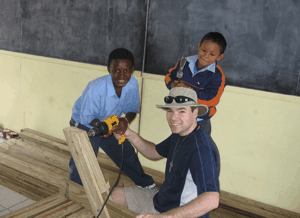 The socio-economic realities are harsh, and education is so important. In 2010, Cathedral mission team members established a high school scholarship program which has allowed selected St. Hilda's students to continue their education past grade 8. The rationale is that if we can give bright children a chance to graduate from high school, they will have a leg up on life. Some of the graduates supported by the Cathedral have gone on to post-secondary education. Our congregation continues to support and pray for St. Hilda's school, and hopes to send another mission team to Belize in the coming years.
Many people have asked our missioners if they decided to go to Belize from a sense of adventure, to help other people, to seek a challenge, to grow in their relationship with God, or to serve Him by showing love and compassion. Each missioner might answer that question differently, as their experiences have been deeply personal.
One person remarked, "It was an unforgettable experience to express my faith openly and to offer myself as the hands and feet of Jesus in the world."
Student Natalie Barrie summed up the mission experience by saying, "We returned as different people with a new understanding of mission and a better outlook on life. We're enthusiastic about what God is doing in the world, and we're excited by what the future might hold for us and for St. Hilda's."