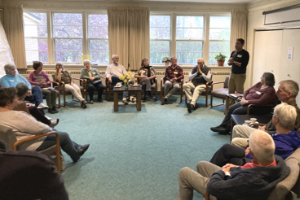 On May 10, we hosted a Newcomer Dessert Event at Cathedral Hall.  The evening was organized by the Mother's Union, Kurt Schmidt (Director of Christian Formation), and Andreas Decken (Chair of Welcoming and Hospitality).
Kurt and Andreas are extremely grateful to the Mothers' Union for doing an excellent job providing treats and setting up the Hall for the event. We had over 30 people in attendance; many congregational members that are part of various Cathedral Groups were present, but also a number of "new" faces to our worship.  We were able to formally welcome people that call Christ Church Cathedral their spiritual home after moving to Fredericton within the last few years.  Particularly noteworthy is the fact that many newcomers were active in other parishes prior to moving to Fredericton and bring their expertise, experiences and ideas with them.
Many in attendance also noted that this event was an excellent venue for members of the various groups within the congregation to talk to one another, learn more about each other's involvement and getting to know each other.
And yes, the desserts were amazing.
- Andreas Decken, Welcoming and Hospitality Chair