Andrew Bruce Nutter has generously donated a commissioned icon for the Lady Chapel of the Cathedral. The icon is a memorial to the Sixth Bishop of Fredericton, Harold Nutter. Below, learn about the symbolism of the icon.
---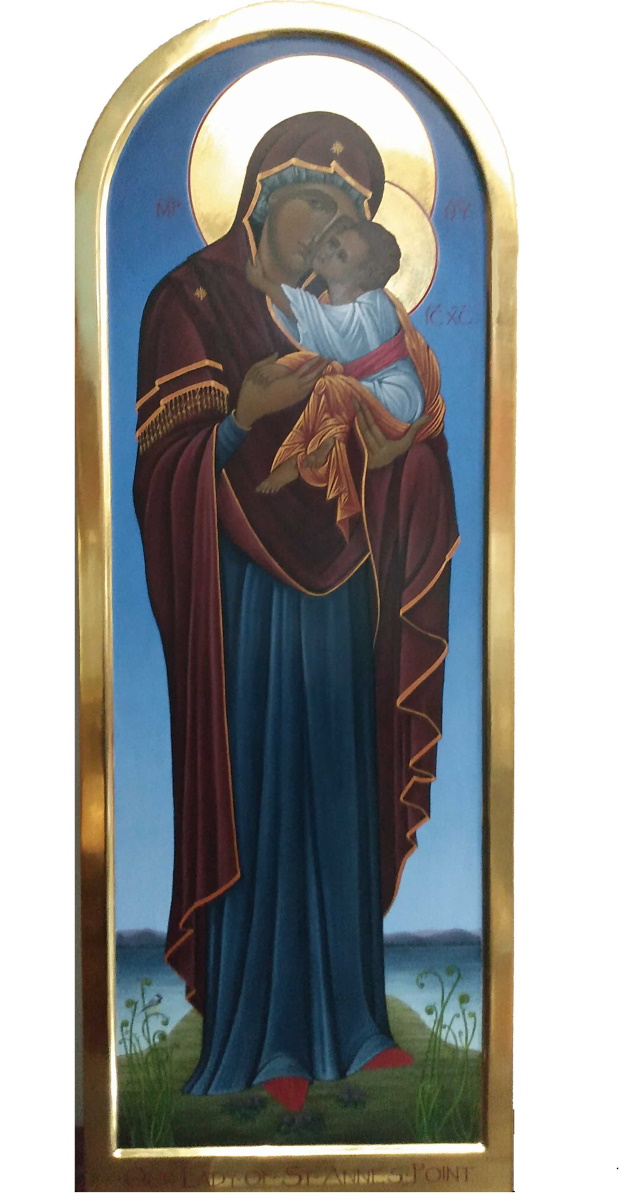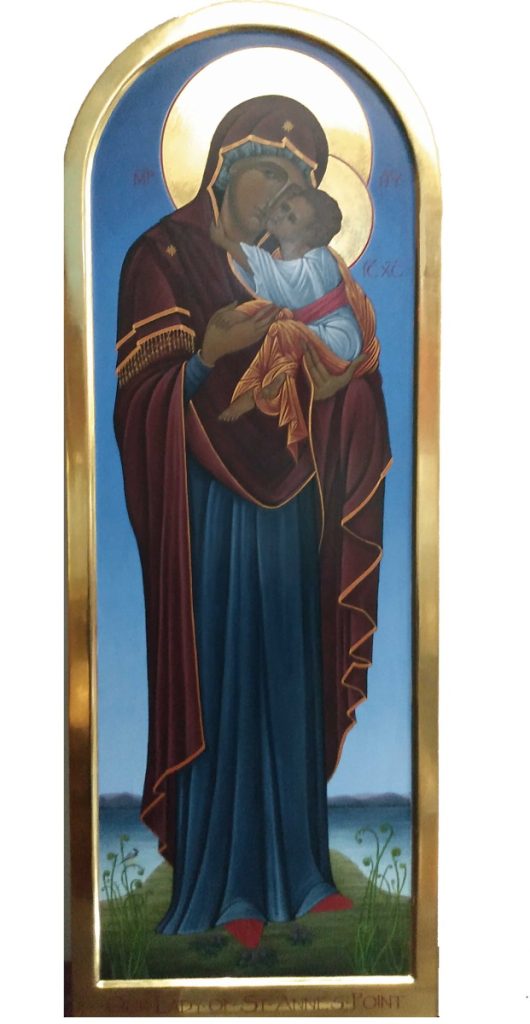 This icon is a memorial to the Sixth Bishop of Fredericton. There has been a tradition in the diocese and cathedral for former bishops to be remembered with a significant gift of some sort, and this continued up to the time of Bishop Moorhead. And so this icon, a memorial, is intended to be placed, appropriately, in the Lady Chapel of the Cathedral, the mother church of the diocese, with an accompanying votive candle rack below.
It commemorates the original designation of Fredericton as St. Anne's Point, thus connecting the establishment of the Cathedral along the river, with what went before, the French regime in New France. It affirms Bishop Medley's sensitivities of renaming the original Christ Church built on the north side of the present cathedral (moved to the upper Fredericton Flat) which he redesignated as St. Anne's Parish Church.
The icon commemorates both the Mother of God, and by the inclusion of St. Anne's Point, the grandmother of the Saviour, as well as the Incarnate Word Himself. It would have been inappropriate to name this icon as Our Lady of Anywhere had there been no previous connection such as that which pre-existed in the designation St. Anne's Point.
I asked the iconographer to paint the image in such a way that the Madonna could, by her skin tone, suggestively incarnate and honour the First Nations people living along the St. John River. A stylized St. Anne's Point, actually a short distance from the cathedral, is where Our Lady is standing, and the hills of the North Side of the river may be seen just beyond. At her feet are fiddleheads, three clumps of blue violets, and a chickadee.
The icon should be firmly attached to the wall. The gold frame is painted acrylic, and is washable, but the halos are gold leaf and should not be touched. A temporary descriptive acrylic plaque is included, but I am hoping for a more permanent one with indented letters to be made in a few months' time. I will be looking for an appropriate date for a blessing.
ABCN (Andrew Bruce Nutter)
October 2022