Have you been wondering? Why has 'Sunday School' been replaced by 'Godly Play'? What's it all about?
Since the Fall of 2017, the Cathedral's Sunday morning Christian formation for children has been using a methodology called Godly Play. Through the pandemic we carried on through Zoom and are excited to be back to in-person this Fall.
Godly Play is an innovative method of faith formation for childhood and beyond, allowing participants to experience faith-building stories through intentional storytelling and imaginative wondering.
This method of teaching children was created by Dr. Jerome Berryman, an Episcopal priest (now retired) and scholar on the theology of childhood and the Montessori approach to religious education. It is used across the globe and across many denominations. It is also no longer just used for children. Overseen by the Godly Play Foundation and its International Council, standardized training is required of those who are to be 'teachers.'
The mission of the Godly Play Foundation is: Making meaning through story, wonder, and play. Nurturing spiritual lives by honoring the centrality, competency, and capacity of children.
A Godly Play session consists of four intentional movements (a basic liturgical structure): welcome and opening; sharing and responding to the story of the day (including wondering together and choosing a form of "work" as response); keeping the feast; and conclusion and dismissal. There are two teacher roles: the storyteller and the door person (think of the best greeter at a church door). At this time, the Cathedral has only two trained teachers, so we alternate these roles each session.
Godly Play lessons are told with a combination of an oral story and storytelling objects. The stories and movements are learned by heart by the storyteller. A story is followed by a number of "I wonder" questions to invite responses from the children. Through these planned stories and materials, which follow a rhythm through the year, children learn the art of using Christian language – parable, sacred story, silence and liturgical action – helping them become more fully aware of the mystery of God's presence in their lives.
The storytelling objects are not just visual aids for a story but are intended to be played with and further explored through the 'work' time. They come in many forms; for example: some stories are told using a set of painted pictures (you may be familiar with the Faces of Jesus that has been presented during worship on Good Friday), the Old Testament exodus stories use wooden figures and a small sand pile (the desert), and the parables use a combination of felt and flat painted pieces to lay out a moving storybook page. We are grateful for those who have created or helped us to purchase our storytelling objects.
The Godly Play room is laid out intentionally so that the materials for any given story are always in the same place and located with those of similar types of stories. We have a focal shelf unit holding the big picture stories, Old Testament shelves, New Testament/Lent/Easter shelves, and we are pleased to have received a new set of shelves for our Parable stories. Thanks to Jim Waugh for building these shelves.
During the 'work'/response time, children can choose to explore any story further, read a storybook, or create something using paints, modelling clay, felt and other craft materials. It is always the child's choice what their 'work' will be.
Our 'feast' time reminds us that we are a community that gathers around a shared meal. This is a simple snack - this time of year we enjoy apple slices and water - much like the Eucharist uses common foods. And we give thanks for our feast so that we remember to live all of our life with gratitude. The welcoming and dismissals are also intentional, focusing on each child in turn as they enter and leave the room.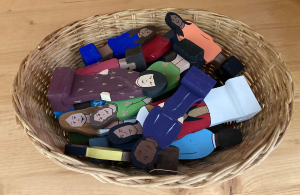 With Godly Play, our 'Sunday School' time is not just about learning lessons or keeping children entertained. It is about locating each lesson in the whole system of Christian language and involving the creative process to discover the depths of meaning in them. It's about understanding how each of the stories of God's people connects with the child's own experience and relationship with God. Godly Play respects the innate spirituality of children and encourages curiosity and imagination in experiencing the mystery and joy of God.
Children 4 and up are invited to join this adventure every second Sunday, beginning to gather at 9:15am, in the Christian Formation room in Memorial Hall. We would also welcome any who would like to explore this ministry further to speak with us and consider taking a training session. Contact Kurt Schmidt or Cheryl Jacobs, or inquire through the Cathedral Office.
- by Cheryl Jacobs