The life of Edith Nutter, widow of former Archbishop Harold Nutter, was celebrated at Christ Church Cathedral September 17.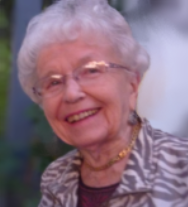 Edith, in her 98th year, died July 29 in Perth, Ont. where she had lived for 10 years. A small, intimate service for family and friends was held there in early August, but the family wanted to come home for a memorial service and her burial next to her husband, thus the September service.
Dean Geoffrey Hall presided, while the Rev. Keith Joyce, former dean of the Cathedral, preached. The Rev. Bruce Nutter, Edith's son, presided at the Eucharist, assisted by Archbishop David Edwards and the Rev. Craig O'Brien. ...
[Continue reading below]
Read the full article, written by Gisele McKnight and published in the November 2021 edition of the NB Anglican.