Chris Robinson is a familiar face around the Cathedral. He loves serving any way he can at church: reading and leading prayers during services, serving as assistant Verger, singing in the choir, playing in the Praise band, assisting with the Youth Group, Alpha, and helping wherever needed.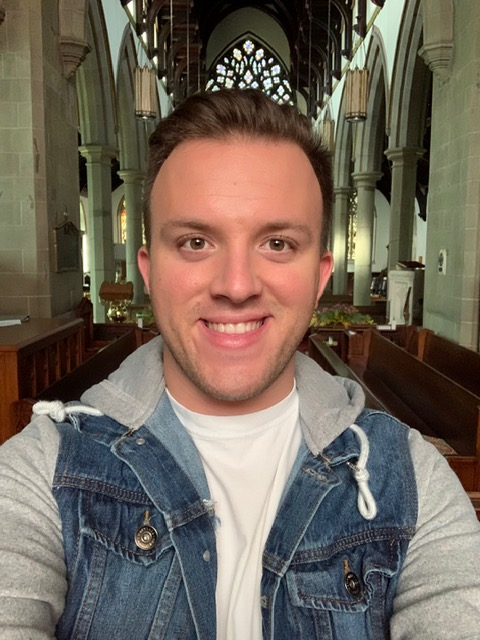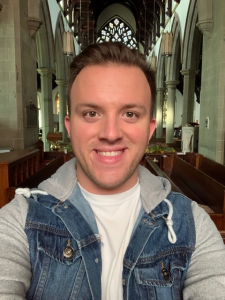 Chris is proud 6th generation Frederictonian. His Great(x6) Grandfather was Ira Ingraham, whose house is located at Kings Landing. Chris's great grandmother, Addie Hanson (Williams), was even custodian of our Cathedral in the 1920s. Chris is very proud of his storied history with the Cathedral.
Chris is an only child – his parents were interviewed by CBC on what it was like to have a child at the age of 39! He has yet another connection with the Cathedral. His "honorary Grandfather" was long time Cathedral member Phil Lyons. Phil was a close friend of Chris's parents, and when Chris was born, Phil was given the baby to hold. It transformed his life, and he promised to be a good example to the young child all his life. Phil taught Chris important lessons from the Bible, the importance of putting God first, and staying close to God even in difficult circumstances. Chris misses Phil every day, but holds fast to God's promise that he will see him again.
Chris spent his first semester at Crandall University, but transferred to St. Thomas University to complete his degree in Journalism with a minor in Gerontology. An example of his work can be seen on YouTube. It is a wonderful video, narrated by him. Last spring, Chris completed his first M.Div course at Wycliffe College at the University of Toronto.
Chris now works full time as a Kindergarten educator at Kingsclear Consolidated School and volunteers every Sunday night as a youth leader at Christ Church Cathedral. He tries to walk outdoors daily, and can often be seen at Starbucks, riding his bike, or playing his guitar.
Living in this age of COVID, it is difficult to make long term plans. Although he has been offered a job as a Youth Pastor at a church (Baptist!) in Mississauga, he is enjoying his time in Fredericton.  He says he takes life a day at a time, and trusts God to direct him.  Chris feels extremely blessed to have the Cathedral family, as we are to have him, for as long as God directs.  Thank you for all you do, Chris.
-- by Marilyn Lewell