For many of us one of the significant losses during necessary safety restrictions during the current pandemic is singing.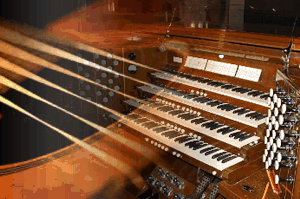 At the Cathedral, we're fortunate that we've been able to strike a safe balance so as to have music continue to be a part of worship even though we've not been singing as congregations since last March. The size of our worship space and a less than mainstream direction from New Brunswick Public Health about a safe exception for leaders and performers means that even if we can't all sing, we can listen. We can follow the sung texts at least in our minds, maybe even hum along a bit and remain within safe practice.
Find here some reflections offered several weeks ago by Cheryl Jacobs about how "being asked not to sing" might be an opportunity to expand our outlook and our attitudes.
Yes, in these odd and tragic times, we in the congregation at corporate worship have been asked not to sing.  This is a disappointment for many of us.  Perhaps, however, it is an opportunity to consider and expand how we worship during a hymn or song.
Here are some thoughts:
Say the words, perhaps working on doing so from memory.  Memorizing scriptural words and truths through song is good for our minds and our spirit as we hide God's word within us (Psalm 119.11).
Pray the words - in praise or for yourself, our church, or someone who comes to your mind.
Meditate on a phrase or verse.  Those who are singing on our behalf can worry about all the words and we can focus on a particular aspect of God's love and grace, or our response to that.
Worship with your hearing, pondering the words of James that we should always be quick to listen and slow to speak (1.19).
Worship with other parts of your body: tap your feet (Jeremiah 31.13), or extend or raise your hands (Psalm 134.2).  Give thanks that there will again be a "time to dance."
Cheryl Jacobs
I'll bring you more than a song
For a song in itself
is not what you have required
You search much deeper within; 
you're looking into my heart.
                   "When the Music Fades" (The Heart of Worship)  Matt Redman