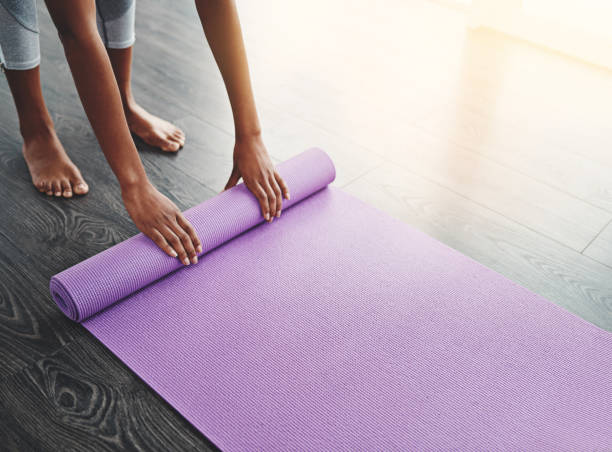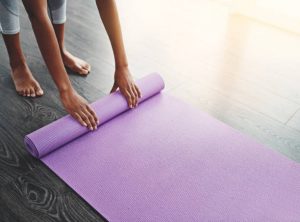 It was a long stretch (pun intended!) without yoga classes at Cathedral Memorial Hall. Thanks to the pandemic, the popular weekly classes ended abruptly on March 9th and finally resumed Sept. 21st.
Parish nurse Kathleen Snow, who organizes this wellness activity, is pleased that the classes can finally resume although certain restrictions are necessary.
"Participants must sanitize their hands upon arrival and sign in and out of the hall," Kathleen said. "People have been asked to bring their own yoga mats, pillows and blankets rather than use items stored at the hall although some extra, sanitized mats will be available for the Monday afternoon classes."
She added that people must maintain physical distancing while in the hall, but it isn't difficult since the mats are always set up a good distance apart even in normal times. The floor, with its pattern of foot-square tiles, makes it simple to stick to the rule of staying six feet (2m) apart.
While entering and leaving the building, and while setting up the mats, people must wear masks. However, it's permissible to remove them during the actual yoga practice. It could get hot and uncomfortable otherwise.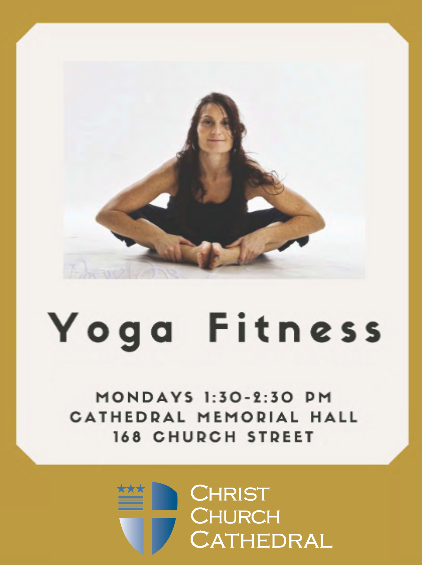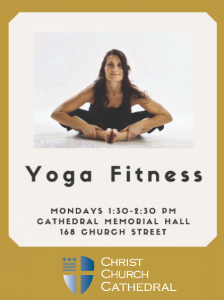 The first class attracted a mix of 13 new members and eager returnees who know that this type of self-care can help reduce stress and inspire well-being. The instructor, Tammy Blyth, said breathing deeply and deliberately provides oxygen to nourish the body; it can also relax the brain and nervous system.
Tammy also pointed out that exercise and stretching not only boost the effectiveness of the lungs and circulatory system, but can also lift the spirits. That's something most of us need in these trying pandemic times when life is so different.
Eric and Jane Hadley agreed it was good to be back for the physical and social aspects of the class. Although they kept busy all summer with gardening, hiking and biking, they looked forward to the resumption of yoga and the chance to see friends from the congregation and the community.
"I find that the gentle warm-ups to loosen shoulders, neck and back are helpful," Ann Deveau said, "and the mix of standing and reclining poses can gradually increase mobility for people like me who are challenged by the stiffness of osteoarthritis."
The yoga classes start at 1:30 p.m. on Monday afternoons except public holidays, last one hour and cost $5 per session. Kathleen asks people to arrive a few minutes early, due to the need for physical distancing and a requirement for newcomers to register the first time they participate.