Christ Church Cathedral "closed" until further notice
"Closed" is such an unpleasant prospect?
In light of the Province-wide "State of Emergency" called by the Premier of New Brunswick on Thursday (19 March 2020), the Dean of Fredericton announces that Christ Church Cathedral and its offices are closed until further notice.
Difficult and without restriction, it's what we are "called" to do.
As the global, and now local situation of the COVID-19 crisis unfolds hour by hour, it has been my goal to see us stay closely in step with the direction expert health, government and ecclesiastical officials are giving us. What's been the leadership challenge is to stay in the 'Goldilocks Zone' -- not too hot, not to cold, but just right. Being over or under reactive will just never do and, it has been for me the real leadership challenge.
In conversation with other leaders both at the Cathedral and around the Diocese, we're all struggling with these same unique challenges. We find ourselves in a situation unprecedented and, for most of us, not comparable to anything in memory.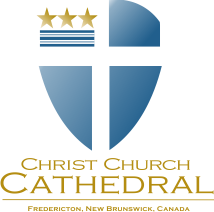 Leadership at the Cathedral, including the Dean of Fredericton and the Executive of Bishop and Chapter are keenly aware of what all of this may mean, especially for members of Cathedral staff. While we are conscious and aware that it is impossible to continue salaries for work not being done, we're also deeply sensitive about our Christian responsibilities of fairness and generosity. Assurances given to staff include that we will make decisions in the very best interest of all and, with the highest degree of consultation possible. What we are able to do for those with whom we have employment relationships depends ultimately upon the continuing financial support of the Congregation. If you haven't yet considered e-offering or online giving options, now might be the opportune time? In a time of uncertainty, you can make a difference. Read "But how do we give ... when we're not in church?"
As circumstances change swiftly it becomes more and more necessary to face both evident and eventual realities. Our economy will need to flutter and adjust, hopefully gently. It's increasingly impossible to make guarantees about details of the future. It's also difficult, impossible or at the least unwise, to make premature decisions. We need to continue to take this one step at a time.
Who we really are has very much to do with community – not just represented by in-person meetings, corporate worship and other gatherings
Working in our favour is that the Cathedral congregation is committed to and, even more, is the life-blood of ministry supported financialy by what we offer in partnership. While it is true we have paid staff positions uncomparable to most parishes in our Diocese, we also recognize that those members of staff enable and organize the lion's share of Cathedral ministry of the baptized of our number called into ministry. Those commitments are not likely to wane any time soon, especially during a difficult time such as this. Many, many are coming forward to offer assistance in a vast number of ways. The Cathedral is taking steps to reduce expenses wherever possible with the first priority of that which does not withdraw the ministries to which we are committed. Our temporal ability to continue that approach is my prayer.
Who we really are has very much to do with community – not just represented by in-person meetings, corporate worship and other gatherings as important as they are. This is a unique opportunity for us to become more fully who we "really" are. This is an opportunity for each of us to further develop our more introspective spirituality for both our own personal growth and our growth in community. I, for one, hope to eventually reach the stage where I can catch up on projects too often labeled "important" but too easily eclipsed by what is "critical," including the daily and weekly necessities.
We need to give thanks for the multiplicity of options within easy reach in this age of technology. Several Cathedral groups have met virtually over the last week and encouragement continues toward those ends. Planning continues by various groups to establish additional creative ways to stay in touch enabling us to be the Body of Christ.
Offers to help are more than welcome by well-established, competent and committed leadership in various areas of our ministry. If any have a need, please connect. Don't hesitate, instead, reach out to one another. Pray for our leaders, care-givers and the world. Do not be afraid.
We will get through this together. No one is alone. Thanks be to God!