Some are asking: What is a "Faith Alive! Deep Dive?"
Faith Alive! is our Cathedral programme of preparation for confirmation, reaffirmation of faith or reception into the Anglican Church. Both "classes" and "sessions" with participants and their mentors comprise the programme content. Specifically, the classes are opportunities when all meet on a Wednesday evening for a meal and some teaching by various individuals on the various topics.
The "Deep Dive" is being offered by the Dean during Lent as one of our Cathedral Lenten Study options in 2020, 1:00 p.m. on Wednesdays in the Formation Room at the Memorial Hall. The Deep Dive is for anyone, Faith Alive! participant or not,  who would appreciate some extended, more detailed focus on the class topics. The extra attention will allow for more smaller gourp conversation and dialogue and are open to anyone who has interest in one or any of the topics.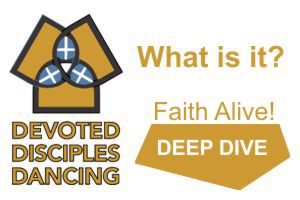 The schedule with topics:
Ash Wednesday, 26 February 2020 - "Worship and Prayer"
Wednesday, 04 March 2020 - "The Holy Bible"
Wednesday, 11 March 2020 - "God/Creeds/Doctrines"
Wednesday, 18 March 2020 - "Ministry and Structure of the Church"
Wednesday, 25 March 2020 - "Rule/Ten Commandments"
Wednesday, 01 April 2020 - "Symbols, Sacraments and Seasons"
You're welcome to join us.