Christ Church Cathedral Missions Committee
The Missions Committee, established at the cathedral in 2008, encourages and promotes mission work as a means of living out our Christian faith – as individuals and as the cathedral family. Our mission statement is "Serving God in mission, sharing Jesus with the world."
The committee financially and prayerfully supports several mission-based causes:
The

Mejia

family serving with the South American Missionary Society in Roatan, Honduras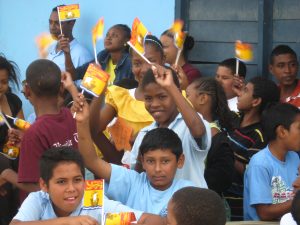 Committee members continue to look for opportunities to
invite guest speakers to share their experiences with mission work (e.g., Canon Paul Jeffries from Bishop McAllister College in Uganda is expected at the cathedral in the autumn of 2016)
endorse the peace, justice and development work of PWRDF 
Through these activities, we hope to lead our congregation into action that will make a difference around the globe and here at home.
The members of the Missions Committee include, Brad McKnight (Treasurer), Dean Geoffrey Hall, Eric Hadley (B&C Representative), Gregg Finley, Helen Sullivan (Secretary), John Dos Santos, Kurt Schmidt, and Sam Mayo. Our committee operates using a revolving Chair member every other month. If you would like to become involved or are interested in more information from our committee or partners, please let one of us know.