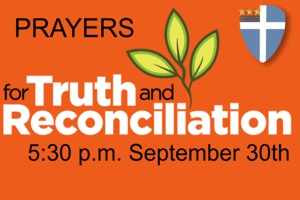 Friday, 30 September is the National Day for Truth and Reconciliation
Join us to pray on this important day.
5:30 p.m., Christ Church Cathedral, 150 Church Street, Fredericton
and livestreamed on our YouTube Channel
The Order of Service is here.
The Cathedral Office and Memorial Hall will be closed on 30 September.
Merciful God, you call us to loving relationship with one another.
Be with us now as we seek to heal old wounds and find joy again in this relationship.
Replace our hearts of stone with hearts of flesh.
Give us the gifts of honesty and openness, and fill us with your healing power and grace.
We ask this in Jesus's name.
Amen.
     [Anglican Healing Fund prayer]
You might also find the following of interest: