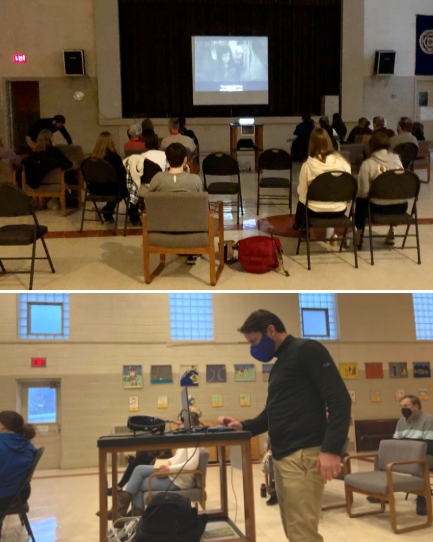 On Sunday 6 March, the first Sunday of Lent, as part of our Ad-LENT-ures 2022 offerings, the Cathedral and the Cathedral Youth Group (CYG) were pleased to host a screening of the first episode of The Chosen. More than twenty people gathered in the Cathedral Main Hall and were introduced in a new way to four important scriptural figures -- Mary of Magdala, Nicodemus the Pharisee, Matthew the tax collector, and Simon the fisherman.
The Chosen claims to be the largest crowd-funded media project in history, and aims to film and produce seven full seasons of eight episodes each, portraying the life of Christ and the disciples. All of the episodes can be streamed -- for free -- from The Chosen standalone app.
If you missed episode 1, watch it at home and join us on Sundays to enjoy fellowship and watch more episodes!
The Cathedral/CYG will be screening the first season of The Chosen on Sunday evenings during Lent, from 6:00 - 8:00 p.m. in Cathedral Memorial Hall.  Here is the tentative schedule:
6 March ~ Episode 1
13 March ~ Episodes 2 & 3
20 March ~ Episode 4
27 March ~ Episode 5
3 April ~ Episodes 6 & 7
10 April (Palm Sunday) ~ Episode 8
Please come along to any or all of the evenings for the viewings and a brief time of discussion afterwards. And bring friend(s)! Refreshments provided.RSVPs requested, to Kurt Schmidt -- by email to <k.schmidt at cccath.ca> or by text to 506-259-3711.